The Alaskan Yukon Adventure - Aug/Sept. 1999.

All pictures on the two pages here are in the progress to be rescanned and enlarged, to get better quality.
There will also be a bunch a new pics on both pages.



You are number



<% 'denna räknare började 2007-10-23 med träffarna 4185. 'Dimensionera alla variabler Dim filObject 'File-objekt Dim fsoObject 'FileSystemObject-objekt Dim lngBesokare 'Innehåller antalet besökare Dim SkrivBildsiffror 'Slingräknare för att med bilder visa antal besökare Dim tsObject 'TextStream-objekt 'Skapa en FileSystemObject-variabel Set fsoObject = Server.CreateObject("Scripting.FileSystemObject") 'Initiera filobjektet med sökväg och namn på textfilen som skall öppnas Set filObject = fsoObject.GetFile(Server.MapPath("\counters\counter_aya1999.txt")) 'Öppna textfilen Set tsObject = filObject.OpenAsTextStream 'Läs in besöksantal från textfilen lngBesokare = CLng(tsObject.ReadAll) 'Öka besöksantalet med 1 lngBesokare = lngBesokare + 1 'Skriv över den gamla textfilen med en ny Set tsObject = fsoObject.CreateTextFile(Server.MapPath("\counters\counter_aya1999.txt"), true) 'Skriv nya antalet till textfilen tsObject.Write CStr(lngBesokare) 'Töm serverobjekten Set fsoObject = Nothing Set tsObject = Nothing Set filObject = Nothing 'Visa besöksräknaren som text Response.Write(lngBesokare) %>


visiting this site since October 1, 1999.

Last Updated December 14, 2010.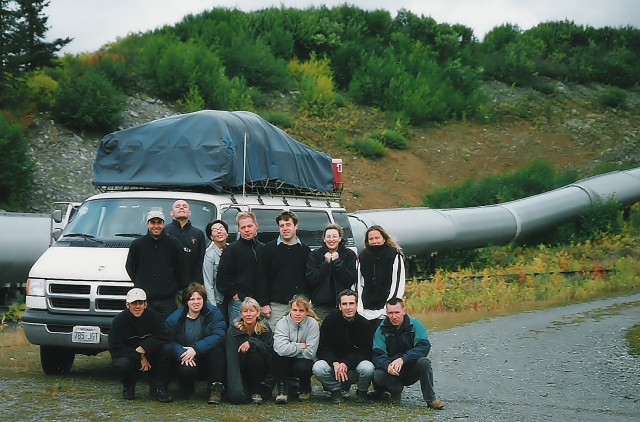 The Alaskan Yukon Adventure group 1999 at the oil pipeline in Alaska!

"Each soul must meet the morning sun, the new sweet earth, and the Great Silence alone!"
(Charles Alexander Eastman (Ohiyesa), Sante Sioux. 1858-1939)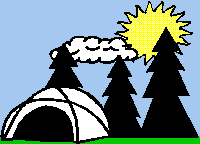 I came back to Alaska and the Yukons doing my 7:th Trek in August/September of 1999 with TrekAmerica.
Many of my friends keep asking me why I go back to places I have already been to. The answer to that is very simple; I usually enjoy going back to places I've already been to since I then know what to expect, to see more things and in some cases to do things a bit differently. So the year after I went on my Klondike Trek in 1998 I decided to go back to Alaska and the Yukon, this time mostly because I just love those places and the wilderness that they represent.
So on August 26, 1999 I flew over to Anchorage to join the "Alaskan Yukon Adventure", a 19 days Trek.

I came to Anchorage in Alaska four nights before the Trek started mostly because I needed the rest before the Trek started, it took me about 24 hours to get there, but also because I wanted to get a good look at the town itself.

On the morning on the 30:th the whole Alaskan/Yukon Trek group met up in the lobby of the Trek hotel. It was good to see my old Trek-leader Tavis (from my National Parks Walk in March 1999, whom I had just four weeks earlier found out were going to do this Trek) but also to meet all these new people. That is also one of the attractions for me on a Trek, to meet all these nice, interesting people from all over the world.
This time the people in the group came from Australia, Scotland, Holland, Switzerland, England, Belgium, Tavis our tour-leader who of course were American and then me from Sweden. Seven guys and six girls, a good mix.

Almost every evening on this Trek we sat by the campfire, when it wasn't raining to much of course, listening to Tavis and Andy playing guitar, singing one of the most beautifully songs ever; Fire, Let it Burn!!!!(Writer unknown)
Denali, Tangle Lakes and Chicken.
| | |
| --- | --- |
| We started up the Trek by driving to Denali NP where we were going to stay for three nights. We were going to do some hiking in the park but that first day we went to the visitor center and also we went to see the sled dogs demonstrations. | Sled Dog demonstration in Denali NP. |
| | |
| --- | --- |
| Exhausted Sled Dogs resting after the run. | I have seen the sleddogs before in Denali but it was very interesting to see them again. They seem to be such happy dogs. |
| | |
| --- | --- |
| The next morning we took the shuttle bus in to the park just to have a look around, we didn't do any hiking this day. We went to Eielson VC, which is approximately three to four hours drive in to the park. | View along the road to Eielson VC in Denali NP. |
| | |
| --- | --- |
| Grizzly Bear mother with her cub in Denali NP. | We managed to see a lot of wildlife on our way there, I believe we counted it to nine Grizzly Bears along with some Caribou, Moose, Ptarmigan etc. |
| | |
| --- | --- |
| This beautifully bird is called Ptarmigan and if I am not mistaken it is suppose to be the Alaskan State Bird. | The Alaskan State Bird Ptarmigan. |
| | |
| --- | --- |
| The Caribou in Denali NP. | Coming from Sweden, I am quite used to the raindeers we have over here up north and the Caribou is a lot like it but like everything else in NorthAmerica, it is a little bit bigger. This one had such beautiflly reddish antler. |
| | |
| --- | --- |
| On our next day we went in to the park again to do some hiking. We didn't see that much wildlife this day but we were fortunate to be able to see Mount McKinley or Denali as it is originally called before the clouds came in. | The majestic Mount McKinley. |
| | |
| --- | --- |
| Mount McKinley close up. | It is said that only 25 % of the visitors in Denali get to see Mt McKinley because of the clouds so we were very fortunate. The wildlife we did see that day was some Dall Sheep quite close up. |
| | |
| --- | --- |
| The wildlife we did see that day was some Dall Sheep quite close up. | Dall Sheep in Denali NP. |
| | |
| --- | --- |
| Tavis sneaking up on the Dall Sheeps. | Tavis though didn't think we were close enough so he tried to sneak up on them to take a good shot. Well, did not really care about him beeing there. |
| | |
| --- | --- |
| The hike we did was a bit hard and steep and I remember having a few blisters on my feet but any blister is actually worth when you can see all this beautifully nature, mountains and exiting wildlife. | Me with the mountains behind while hiking in Denali. |
| | |
| --- | --- |
| Our cabin at Tangle Lake, Alaska shortly after sunrise. | Trek Day No. 4 we left Denali on the Denali Highway, which is on dirt road, for Dawson City in Yukon, Canada. The rain was poring down so we decided to stop halfway to rent a cabin for the night at Tangle Lakes which is one of my favorite places. |
I was here on my Klondike Trek in 1998 and just loved the place it is so beautifully and peacefully. We were not supposed to go here so when the schedule got change because of the rain, I was happy for that.
We had a really nice dinner outside on the porch looking at the sunset.


Margreet from Holland cooking on the porch at Tangle Lakes at sunset.

The moose family on the road leaving Tangle Lakes.

The next morning we continued our journey for Canada and Dawson City. Again we saw all kinds of sceeneries along the road.

Suddenly we met up with a moosefamily so we stopped for a while to look at them but they were not to happy to have us there so they soon left.
| | |
| --- | --- |
| Just before the Canadian border we passed the famous little town "Chicken" were we of course stopped to have a look around. | Downtown Chicken, Alaska. |

Rest stop in Chicken, Alaska.

I also found these cute outhouses that was located in the mighty Chicken downtown.

After the brake we went over the border and we all got this nice stamp in our passport, the picture of a gold digger with a donkey.
Then the drive to Dawson City was just a couple of hour's drive away on the "Top of the world Highway".
Dead Toes, Kareokee, Turkish Bath and Rock'n Roll in Dawson City.
When we got to Dawson City we put up our tents at the Hostel just beside the Yukon River. Dieter, who runs the hostel is a very nice guy and we soon found out that he didn't have any showers there, but there was a kind of Turkish bath.

That was actually one of the nicest way to get clean I've ever tried. There was a big barrel of water which had a fire underneath it, and you just took a bucket of that hot water from the barrel and poured it over yourself. Very nice!


The entrance to the Turkish bathhouse.
| | |
| --- | --- |
| Phil: Hm, looks interesting. Tavis, are You sure You gonna drink that????? | The two nights we spent in Dawson we went out for the Bars and the Casino. The first evening we went to the famous Sourdough Saloon where some of the people in the group drank that drink with the dead toes. |
Yes, You heard right! They put some "real dead toes" in a drink and You drink it, bottoms up and you must make sure the toes touches Your lips. For that You get a certificate.
I might add the toes look horrible.


Kay, Mal and Donna are the brave girls. Cheers.
| | |
| --- | --- |
| | After the Dead Toes experience we went to the "Diamond Toth Gerties Gamblinghall" to look at the show they have and to do some gambling of course. We ended that night at a Rock'n Roll Bar were we hit the dance floor, and I who just love to dance I was up there almost the whole time. |

Dawson City seen from the trail up to Midnight Dome.

Well, we didn't just party in Dawson we did some hiking as well. Some of us went up to the Midnight Dome the next day, a viewpoint in Dawson.

It was pretty steep and slippery but the view was excellent from up there.
| | |
| --- | --- |
| This evening we went to a Kareokee Bar. That was hilarious when Tavis, Andy and Phil got up there to sing. That was so brave, I would never be able to do such a thing. | Tavis singing "You Give Love A Bad Name" (Bon Jovi). |

Andy and Phil with "Hey Jude" (Beatles, of course).

Andy and Phil sang "Hey Jude" with an unbelievable enthusiasm and that song kept ringing in my ears for days after that.

We ended that evening to at the Rock'n Roll Bar, and hit the dance floor again, and I believe we will all remember "Sweet Home Alabama".
Tombstone, The Arctic Circle and The Eileen Ford Model.
The next day we drove up to Tombstone on the Dempster Highway, another dirt road which goes up to the Arctic Circle to where we were going the next day for a day trip.

On the way to Tombstone we stopped a few times to take photos because it was so beautifully along the road.


On the road to Tombstone.

Me in front of the Tombstone Mountains.

After we had settled in at the campground in Tombstone we went for a hike to the Tombstone Mountains.

It was a pretty steep hike with a narrow trail and a lot of bushes that kept hurting my bare legs on the way up so I had a few cuts on my leg after the hike but it was worth it, it was so beautifully up there.
The next morning we took the van and headed for the Arctic Circle for a day trip.

That was a long day in the van. I don't remember exactly how long it took to get there but I think it was about 5 to 6 hours, one way that is, then we had the same amount of time to get back to Tombstone. But it was worth it, at least in my opinion, even though we couldn't see over the "Arctic Border" because of the thick clouds.


Group photo at the Arctic Circle.
| | |
| --- | --- |
| Huuuummmmmmmmmm - Huuummmmmmmmmm. (Me trying to look as I am meditating .........or something!) | I have never seen such reddish colors before, the Tundra was in its most beautifully stage in the fall. |
| | |
| --- | --- |
| Everyone was taking photos of these red colors and it was almost hurting your eye. | Donna did not meditate. |
Yea Baby!!!!!


Eileen, here I am!
(Hm, Andy; Do You have any idea where You are? It's freezing out here!)

You don't meet many people up here but Andy, the "Baby" in our Alaskan Yukon Family, thought that maybe, just maybe some one would show up and offer him a fat model contract.
So Eileen I can only say; here is Your big chance!!!!!!

Well, I am sorry to say that no model scouts from the "Ford Agency" showed up so we entered the van to go home to Tombstone.

We were almost there when someone in the van screamed; Bear!!!!
There he was, a Black Bear, and he was really close to our camp. We were just like maybe 500 meters away from the camp and when we got there we could see him for a long time from the camp as well when he slowly wondering to where ever he was going.
The next morning I was as usually first out of bed and it was really cold outside, around minus 10 Degrees Celsius.

Almost every morning I was first out of bed to put on the water for tea and coffee on the stove. I always put on my alarm clock when I am on Treks just to be able to sit and have a cup of coffee in peace and quiet and maybe also see the sunrise.


I warned my tent mate Kay about this, that I would probably wake her up every morning when the alarm was going of, and asked her not to hate me too much for that. I hope You didn't Kay.


Kay from "THE LAND DOWNUNDER" still sleeping, despite my alarm clock!

Leaving Tombstone really early in the morning at sunrise.

Well, we were now in the middle of our Alaskan/Yukon Trek when we left Tombstone driving south on Dempster Highway to our next destination; Whitehorse, where we were going to stay for the night.

The next day we were going to continue our journey to Kluane NP.



Follow me on the rest of our Alaskan/Yukon Trek by clicking on the photo above or by the menu below.

My Treks with TrekAmerica.