The Indian Trail 1994 - Page 1.


The pictures on this page are in the process of beeing rescanned and enlarged, to get better quality.
There will also be a large amount of new pics.

You are number



<% 'denna räknare började 2007-10-23 med start på 4631. 'Dimensionera alla variabler Dim filObject 'File-objekt Dim fsoObject 'FileSystemObject-objekt Dim lngBesokare 'Innehåller antalet besökare Dim SkrivBildsiffror 'Slingräknare för att med bilder visa antal besökare Dim tsObject 'TextStream-objekt 'Skapa en FileSystemObject-variabel Set fsoObject = Server.CreateObject("Scripting.FileSystemObject") 'Initiera filobjektet med sökväg och namn på textfilen som skall öppnas Set filObject = fsoObject.GetFile(Server.MapPath("\counters\counter_indiantrail1994.txt")) 'Öppna textfilen Set tsObject = filObject.OpenAsTextStream 'Läs in besöksantal från textfilen lngBesokare = CLng(tsObject.ReadAll) 'Öka besöksantalet med 1 lngBesokare = lngBesokare + 1 'Skriv över den gamla textfilen med en ny Set tsObject = fsoObject.CreateTextFile(Server.MapPath("\counters\counter_indiantrail1994.txt"), true) 'Skriv nya antalet till textfilen tsObject.Write CStr(lngBesokare) 'Töm serverobjekten Set fsoObject = Nothing Set tsObject = Nothing Set filObject = Nothing 'Visa besöksräknaren som text Response.Write(lngBesokare) %>


visiting this site since February 15, 1999.
Last Updated December 14, 2010.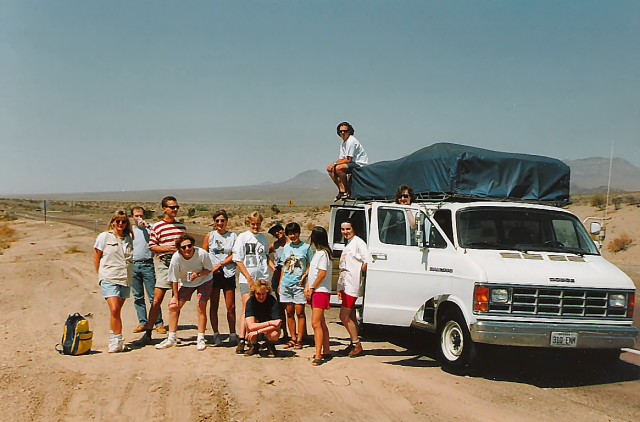 "My friends, how desperately we need to be loved and to love."
(Chief Dan George, Coast Salish, 20th century)


The "Indian Trail", a 14 day trek and my first Trek with TrekAmerica. Since I was a child I always been interested in the culture and history of The American Indians, so what better Trek to begin with.
The first days in Los Angeles.
I flew in to Los Angeles two days before the Trek started and of course I went around in Los Angeles to have a look.

Among other things I went to Downtown La, Olivera Street which is one of the oldest parts of LA, Farmers Market, Beverly Hills and of course I had to see some of Hollywood.

The Bank District Wells Fargo in downtown LA with it's sky scrapes.

The Chinese Theatre on Sunset Blvd with the Walk on Fame.
In Hollywood I went to see The Chinese Theatre where most films has their opening night and the Walk on Fame with all it's hand and foot prints of many moviestars.

It felt a bit strange seeing the hand prints of Marilyn Monroe for instance.
Arizona.
Rustys and Bettys Cowboy Camp.
The evening before we were going to start the Trek the whole group met up in a bar to introduce us to each other.

We were a bunch of people from all over the world; England, Japan, Scotland, Australia, Holland, Italy and then me the only Swede and our Trekleader, Chris who was American of course. 13 people mostly girls, only 3 guys.

The following morning we took off in the van for our exciting adventures.

The gang packing our van at our Trek-hotel in LA leaving for Arizona.

The view from inside the van on the road to Arizona.
We drove from LA and the first 2 days we spent in the desert of Arizona, horseback riding.

We were heading for Rustys and Bettys place in the Arizona Desert.

This was also the first time I have ever been camping in a place where you actually can find dangerous animals such as scorpions and rattlesnakes so I was pretty nervous about that.

I HATE SNAKES!
That first evening when we went out horseback riding in the sunset, which was very nice by the way, I suddenly heard a strange noise beneath my horse and myself.

I didn't understand what it was until the guy who was riding behind me suddenly had some trouble with his horse. The horse was spooked by that same strange sound; my horse was completely calm. At that moment I quickly realized what it was so I looked down and there it was; A HUGE RATTLESNAKE!

Our first evening and dinner at Rustys and Bettys Cowboy Camp.

Our Arizona Desert camp and my tentmate Junko is peeking out from our tent.
Well, to tell You the truth the snake wasn't that big but in my opinion it was.

Let me assure You I did some real investigation of my sleeping bag that night before I was able to crawl in to it.

I killed my sleepingbag several times to make sure there was nothing alive in it, and it was a bit difficult to get to sleep that night.
Here at Rusty's and Betty's summer camp we soon discovered that there were neither running water nor a bathroom of any kind, only this pit toilet way out in the desert.

It was kind of spooky walking over there in the dark, and it was pitch dark, so us girls always took a bunch of other girls with us.

After experiences a few Treks since this one I have got used to things like this, it sort of comes with the territory and I like it when it's a bit tuff.

Our cute little rest room in the Arizona Desert......
Room with a view and a lot of fresh air.

Rusty, our very lovely host in the Arizona desert.
Rusty and Betty and their crew are really lovely people and many Trek-groups has passed by their camp.

I am sure everyone that has visit Rusty and Betty comes back with really nice memories of this visit, as we all did.
We really enjoyed everything about it.
The next day we went horseback riding again and then Rusty and one of his cowboys taught us how to throw a lasso.

It was actually not that difficult even though we weren't that good at it.

Rusty, teaching Julia how to throw a lasso.

Ileana, Paul and Julia as really nice looking cowboys. Hmmmm, Paul that riffle of yours does point in a dangerous direction.
After the "throwing a lasso" lessons we sort had a costume party and dressed up in cowboy clothes and played cowboys.

We were laughing like crazy and some of us got really in to it and played "the gun-men" with real intense.....
When it was my turn to turn up as a cowboy all the clothes that were left were way to big for me so I looked really crazy and without any legs since they just dissapered underneath that long coat.

So when this photo was taken I was laughing like crazy and could hardly keep myself upright because my stomach hurted so much.

Me as the laughing fearful cowboy with the big riffle and no legs.

Chris looking really cute in his outfit and sweating like crazy after chasing the wild cows.
Suddenly a heard of cows came in to our camp and was running around our tents.

Chris, our Trek-leader, who of course also dressed up in cowboy clothes but he had chosen to dress himself as a woman, he ran around the camp chasing the cows.

At that point we were almost braking down with laughter seeing him running around among the cows with his skirt.
Grand Canyon.
Then we went further on to Grand Canyon. I have never been to GC before but of course I have seen photos, TV-shows etc. What an extraordinary place. No TV-show or photo in the world can capture the real thing.

There were a few people in our group who never had been here before, I was one of them, and we had to go to the edge of the canyon, blindfolded. There was one person holding my hand and we went for the edge and were just a few steps from the edge when they took away the towel I had over my eyes.

I have one word for it:WOOOOOW!!!!

Group photo with a really nice view of Grand Canyon.

Pam, Patrick and Junko on the Cedar Ridge Trail.
In Grand Canyon we of course went hiking and one of the trails we went on was the Cedar Ridge Trail.

This trail is not that long but quite steep and narrow and you'll are a few steps away from the edges all the time, but the views from there was just amazing.
It took some time for us to get down the whole way since we stopped so many times to take photos.

At the end of the trail we stopped for a while, had our lunch sandwiches and just rested.

Most of us just sat there admiring the fantastic views for a long time.

Me taking a rest by the edge of Grand Canyon on the Cedar Ridge trail.

Mary, Pat and Patrick on the Cedar Ridge Trail.
When it was time to hike back up some of us started to race up this steep trail and that was indeed a good exercise.

We had to stop here and there becasue of the mule-traffic. People who cant or wont hike down and up the trail can go by riding mules instead.

When there was this traffic jam on the trail we had to stop and get really close to the mountain wall to let the mules passed. There are not much room on the trail.
Since some of us raced up the trail, we had to wait a while for the rest, who was clever enough to take their time.

But one after one everyone dropped in and we could continue home to our campground in Tusayan, just outside the Grand Canyon area.

Some of us were going on a helicopter flight the same afternoon, myself was going the next morning.

Some of the gang being very happy to have made the GC hike.

Sunset at Shoshone in Grand Canyon.
When those of the group who had been helicopter flying that afternoon had come back we went to Grand Canyon again.

We were going to watch the sunset in Grand Canyon at a place called Shoshone.

What can I say again but a huge WOW!!!

That sunset was just something to remember for the rest the life.
Shoshone is not located on the map as far as I can tell (at least I can't find it) and unfortunately I cant't remember exatcly where it was located, and are basically just a picnic area.

We did enjoyed it very much though and had a really nice evening together and it got real late before we went home to Tusayan.

Some of the gang at the view point at Shoshone in Grand Canyon by sunset.

Our GC Helicopter.
The next morning it was time for my own helicopter flight down into the Canyon.

I had never been up in a helicopter before and since I am a bit scared of flying I was pretty nervous.

In my opinion it was nothing at all like flying in an airplane, I wasn't scared at all and enjoyed it very much.

The views we saw was just amazing.
| | |
| --- | --- |
| I had some companions with me from the group and we were all hooked up with these huge earphones, otherwise we wouldn't been able to hear one another and the pilot. Inside a helicopter it is quite noisy. | Pat and myself during our GC Helicopter flight. |

Soon we are over the edge to Grand Canyon in our GC Helicopter.
As I said the views were just amazing and I would really love to do this again.

We flew down into Grand Canyon and not just over it so it was really exciting.

One thing that was really exciting was when we flew over the edge and suddenly we were over this huge crack in the ground way down.
After we had flown over the Grand Canyon edge we flew for a while inside the crack in the ground.

I don't know how many times I said "Wow" and "Wow" over and over again, and if I remember correctly we all did just chanting with these....."Wows"!

You might say that we were speechless with other words.

View from flying inside the Grand Canyon in our GC Helicopter.
Monument Valley.
The next stop was Monument Valley, one of the most beautiful places on earth, in my opinion.

We did a few hikes and a jeep tour with a very interesting Navaho-guide, looking at old stone paintings on the walls of the cliffs.
We also visited a Navaho village and heard stories told by an old Navaho woman. It was brilliant.

Monument Valley is one of the most peaceful areas in the USA and one of my favorite places in North America.

Famous view of Monument Valley; Teapot and Coffeepot.

Me in Monument Valley by the John Wayne cliff from a famous movie.
Check out the small cliff on the right side of the photo.

Very famous from a John Wayne movie and a certain jeans commercial.
| | |
| --- | --- |
| The Jeep-tour we did wook us far in to the valley it self and everywhere there were these beautifully cliff formations, in bright red colors. | The colors of Monument Valley are beautifully. |
Utah.
Mexican Hat.

The Mexican Hat itself.
After we had visited Monument Valley we did a short stop in the little town Mexican Hat just by the border in Utah.

Of course we had to visit the strange cliff that really looks that someone has just put a big stone on top of a cliff by hand, and that the town near by is named after.
We also stayed in the town Mexican Hat for a while to have a look around.

I was walking around the town when I came across a Navaho Hogan that was open to visitors and med curious as I am, I had to take a look inside.

Me saying Hi from inside the Navaho Hogan I found in the town of Mexican Hat.
Colorado.
Mesa Verde.

The Anasazi cliffhouses at Mesa Verde.
After Monument Valley and Mexican Hat we went over the border to Colorado and Mesa Verde.

Here we spent a whole day looking at the ancient cliff houses from the time of the Anasazi Indians.

Very interesting.
At Mesa Verde we climed up and down the cliff walls and sometimes it was quite scary.

Everywhere we could go we went, even down into a hole in the ground where someone actually have lived so long ago.

Group photo inside the hole in the ground.

Me climbing up from the hole in the ground with the laughing audience.
Everyone in the group climded down into the hole at the same time so it became kind of crowdy down there.

When we later climbed up again people was standing around the hole, laughing, cause it looked kind of funny when all this people came up from a small hole in the ground - one after the other.
Telluride.
We spend the night at a hotel in a small town, Telluride.

Telluride has a real western atmosphere, so we did some exploration of the town.

The main street of Telluride, Colorado.

Dinner party in Telluride, Colorado.
In the evening we all dressed up to go to have a real nice dinner at the hotel, instead of cooking our selves.

Then after the dinner we went out on the pubs and clubs to have some drinks and dance.
Please follow my journey on the "Indian Trail - Page 2" by clicking on the photo or the menu below.
My Treks with TrekAmerica.