The Klondike 1998.

All pictures on the three pages here has been rescanned and enlarged, to get better quality.
There is also a bunch a new pics on all three pages.
You are number



<% 'denna räknare började 2007-10-23 med träffarna 3360. 'Dimensionera alla variabler Dim filObject 'File-objekt Dim fsoObject 'FileSystemObject-objekt Dim lngBesokare 'Innehåller antalet besökare Dim SkrivBildsiffror 'Slingräknare för att med bilder visa antal besökare Dim tsObject 'TextStream-objekt 'Skapa en FileSystemObject-variabel Set fsoObject = Server.CreateObject("Scripting.FileSystemObject") 'Initiera filobjektet med sökväg och namn på textfilen som skall öppnas Set filObject = fsoObject.GetFile(Server.MapPath("\counters\counter_klondike1998.txt")) 'Öppna textfilen Set tsObject = filObject.OpenAsTextStream 'Läs in besöksantal från textfilen lngBesokare = CLng(tsObject.ReadAll) 'Öka besöksantalet med 1 lngBesokare = lngBesokare + 1 'Skriv över den gamla textfilen med en ny Set tsObject = fsoObject.CreateTextFile(Server.MapPath("\counters\counter_klondike1998.txt"), true) 'Skriv nya antalet till textfilen tsObject.Write CStr(lngBesokare) 'Töm serverobjekten Set fsoObject = Nothing Set tsObject = Nothing Set filObject = Nothing 'Visa besöksräknaren som text Response.Write(lngBesokare) %>


visiting this site since May 23, 1999.

Last Updated December 14, 2010.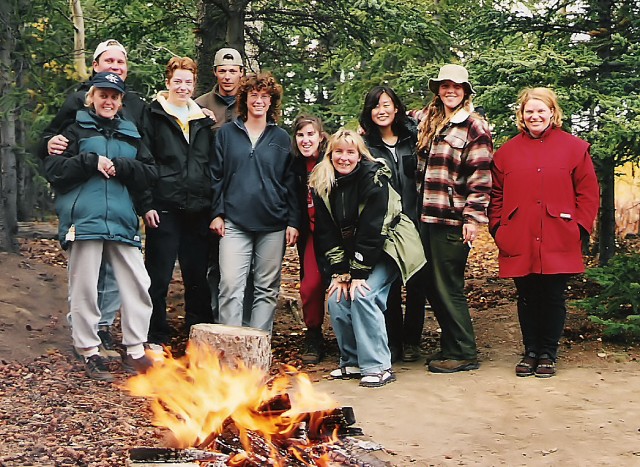 The Klondike group 1998 in Kluane NP.





"Knowledge was inherent in all things. The world was a library. . . ."
(Chief Luther Standing Bear, Oglala Sioux 1868-1939)



Going to Alaska had been a dream of mine for a long time and in 1998, I finally took the decision to go there. So my 5th trek with TrekAmerica came to be the "Klondike", a 26 days trek.
I have divided this Trek in to 3 pages to make it easier to download because of its many photos.

Since it is quite expensive to fly in to Alaska I decided to take the Klondike trek since this one started from Seattle, Usa and then goes up through Canada; British Columbia and the Yukon, to Alaska.

I had never been to the Yukon and the nothern parts of BC before so that was part of the decision as well. It is a long drive though so many hours were spent in the van on dirtroads and You must be prepare for that if You decide to go on a Trek like this one. At the same time it is a very beautifully drive so the time is well spent, You get to see a lot of things.

This is also the trek where You get to see a lot of wildlife, and I mean a LOT. I believe we saw something every day and of course the Bears are the highlights. We saw quite a few Bears up close, which You soon are about to see. So on this page there will be a lot of photos, both the scenery and the wildlife. So lets hit the road!





British Columbia - Vancouver

Carolyn and Marc was the first ones making the effort of cooking to everyone at Dogwood Camping in Vancouver.

We left Seattle early morning on the 24th of August and headed for Canada and Vancouver which was going to be our first stop on this trip.

We were a quite small group this time (there are max 13 people in each group) with 8 girls and only one guy, Marc.

The countries represented were; Australia, Holland, Belgium, Japan, Switzerland, Usa; our tourleader Steve and I; the only Swede again.
The drive to Vancouver is not so long so we had a full day there to explore the city. As usually we did the tourist things again; Stanley Park, Gastown etc.

A couple of us also went to the big Aquarium in Stanley Park, to have a look at the Orcas, just in case we weren't able to see any of them up in Alaska, which we of course did, we saw a lot of them.


Orcas and Dolphin in action at the Aquarium in Stanley Park, Vancouver.
Alaska - Hyder
The next day we headed northeast in British Columbia, to Spencers Bridge for those who were going to do the riverrafting. After that we headed to our campground at Lac La Hache and then the next day further on to Burns Lake. Those first couple of days we spent a lot of time in the van, driving, to get us as far up north as possible so there were little time left to do things except for some stops here and there, but this was also a good time to get to know each other since we were going to spend so many days together.

On Thursday August 27, we came in to Alaska for the first time and that was indeed a big moment for all of us.

If You have checked the Alaskan map, You have probably seen that on the coastline west of British Columbia, there are parts that belong to Alaska as well. So we went to Hyder to get hyderized at the Glacier Inn to celebrate our first visit to Alaska.

I shouldn't tell You too much about that to spoil the surprise if You are going there sometime, but the thing is that You go to this Glacier Inn, which is a famous pub, and have their famous homemade drink. If You make it; You'll get a specially ceritificate for it. The pub itself is worth a visit since it is very different from other pubs.

Making dinner in Hyder, Alaska.

Before we visited the pub we had dinner, burgers, made on our campfire and the campfire is something really important during these trips.



On this trip we had it almost every night, and most of the time we just sat there, chatting before we went to bed.
| | |
| --- | --- |
| Nicole, Lisa, Nicole, Marc and Amanda making dinner outside on the campfire, despite the fact that it was actually raining a bit. | |
British Columbia - The K'san Indian Village

The K'san Indian Village.

The next day we drove over the border again back in to Canada and BC to get further up north on the beautifully Cassiar Highway to visit an Indian Village; The K'san Indian Village.

Again for me, I was happy to get an opportunity to visit a place where I could learn more about the American Indians, which has been an interest for me for such a long time.

We spent a few hours here, visiting the area and the museum and it was as always very interesting.
British Columbia - Moose Meadows
After the visit to the village we continued our journey to Moose Meadows, one of the most peaceful places I have ever been to.

On the way we stopped a few times, one time we stopped to have a look at some local Indians fishing Salmon in a river.

In Moose Meadows half the group stayed in a small cabin and the rest of us stayed in our tents, because the weather was very shifting at the moment.

We could feel that the fall was about to arrive even though we were still in the month of August. One moment the sun was shining and the next moment a rainstorm came in on us.

During our first night we even saw that up in the mountains it came snow so suddenly it had become much colder than before.


Morningview from my tent at Moose Meadows.

Paddling down the river at Moose Meadows - Nicole, Lisa and me and Nicole.

Our 2 nights at Moose Meadows were great. We spend the next day out in Canoes, paddling down the river. It was brilliant.

We saw some big Grizzly Bear tracks on a beach where we took a brake and had got instructions to make a lot of noise as soon we went ashore.
So we were banging with our paddles on our canoes and talked loudly to make sure the Grizzlies would go away.
| | |
| --- | --- |
| The tracks we saw on the beach belonged to a Grizzly mother and her two cubs, and You don't want to have a protecting Grizzly Bear mother nearby, that's for sure. | Nicole making a fast brake....I wasn't prepared for it....eeehhhh, sort of. |

Marc doing the chopping wood thing.

As I said were our 2 nights at Moose Meadows great.

It was a bit chilly and some rain came. But we kept warm by having a huge fire every night so chopping wood is something that goes on almost every day.
Yukon - Whitehorse, Dawson City and Top of the World Highway
The next morning we continued to Yukon and Whitehorse. Here some of us went horseback riding and some did explore the town itself.

Here You can see the famous Klondike ferry that in the old days took a few gold-diggers from Whitehorse up to Dawson City on the mighty Yukon River.

For the past days of driving we had spent most of the time on dirtroads and the next morning we continued to Dawson City, still on dirtroads for a while.


The mighty Yukon River.
Dawson City had its golden days during the 1890s during the big goldrush and at the time there lived a lot of people.

Today the city had just a population of a few thousands, but the town itself looks much the same. The rules says that if a new house is going to be built today it must have a certain look, built like in the old days. It is a historical town so we spend the two days here walking around, looking at the town and visited the museum, which is a very good one.

Happy girls at the viewpoint Midnight Dome at sunset in Dawson City.

The first built casino in Canada is located here; The Diamond Tooth Gertie's Gambling Hall.

On the second evening we went to see a show; Gaslight Follies, and we had a really good time seeing the show. The highlight of the show was when two old gentlemen in the audience were brought up on stage to play a little act.

One was dressed up like a bug and the other one chasing him with a bag net running across the stage while the show was going on.

Everyone was laughing like crazy, especially the wives of the two men.
Our campsite was located on the other side of the river and to get there we always had to take the ferry.

The campsite itself did not have so many facilities and that is something You have to be prepared for when You go on a trip like this.

This time we had just a pit toilet, no showers or anything but this is something you get used to pretty quickly. Usually there are places in the near by town where You can get a shower if necessary.


Autumn colors in Yukon.
| | |
| --- | --- |
| Our little cute visiter, the Fox at the campground in Dawson City. | One of the days here we also had a little fox visiting us at the campground and I managed to get quite close before it took off. But I managed to take a quick photo of him. |
On Thursday September 3rd, we finally took of for the border and Alaska but it took a while before we got there.

We drove on the beautifully Top of the World Highway, dirtroad again, and it was so pretty during this drive with all the autumn colors.

We stopped many times to take photos and it was so yellow, red and green that it almost hurts the eye.


Me on the Top of the World Highway.
Finally we so arrived to the Alaskan border. We were all extremely excited about beeing here and got quickly out of the van to take a lot of photos.

This page has been the historical route. Please, follow me over the border to beautifully and wild Alaska by clicking on the Alaska sign or in the menu below.
My Treks with TrekAmerica.
I wish to thank those in the Klondike group who sent me some of the photos that are included on this website.

Last Updated December 14, 2010 - 09:15 CET.