The National Parks Walk - March 1999.

Nevada - Utah - Arizona.

All pictures on this page have been rescanned and enlarged, to get better quality.
There are also a bunch a new pics here.

You are number



<% 'denna räknare började 2007-10-23 med träffarna 3731. 'Dimensionera alla variabler Dim filObject 'File-objekt Dim fsoObject 'FileSystemObject-objekt Dim lngBesokare 'Innehåller antalet besökare Dim SkrivBildsiffror 'Slingräknare för att med bilder visa antal besökare Dim tsObject 'TextStream-objekt 'Skapa en FileSystemObject-variabel Set fsoObject = Server.CreateObject("Scripting.FileSystemObject") 'Initiera filobjektet med sökväg och namn på textfilen som skall öppnas Set filObject = fsoObject.GetFile(Server.MapPath("\counters\counter_npw1999.txt")) 'Öppna textfilen Set tsObject = filObject.OpenAsTextStream 'Läs in besöksantal från textfilen lngBesokare = CLng(tsObject.ReadAll) 'Öka besöksantalet med 1 lngBesokare = lngBesokare + 1 'Skriv över den gamla textfilen med en ny Set tsObject = fsoObject.CreateTextFile(Server.MapPath("\counters\counter_npw1999.txt"), true) 'Skriv nya antalet till textfilen tsObject.Write CStr(lngBesokare) 'Töm serverobjekten Set fsoObject = Nothing Set tsObject = Nothing Set filObject = Nothing 'Visa besöksräknaren som text Response.Write(lngBesokare) %>


visiting this site since September 28, 1999.

Last Updated December 14, 2010.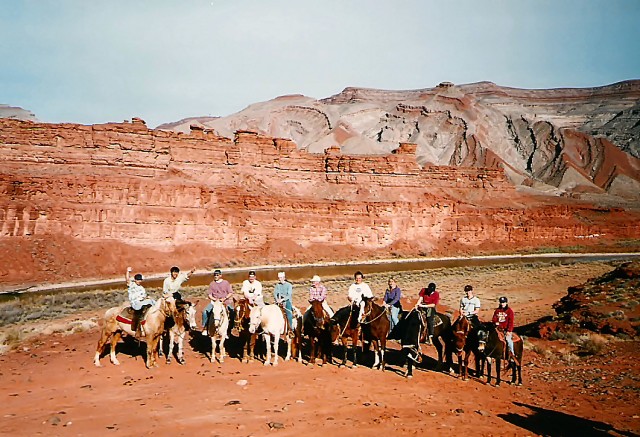 The NPW group on our horses at Slim & Kody's place in Mexican Hat, Utah.





"You must speak straight so that your words may go as sunlight into our hearts."
(Cochise ("Like Ironweed"), Chiricahua Chief, date of birth unknown-1874)



The "National Parks Walk", a 11 days hiking Trek came to be my 6:th Trek with TrekAmerica. This time we were a bunch of old "Trekkies" that decided to go on a Trek together, a kind of reunion even though we were not all from the same Trek.
To really confuse You it was like this: Me and two of my friends from the The Rocky Mountaineer's of 1995 decided to go on this Trek together, then one guy from my Rocky Mountaineer's of 1997 decided to come along and then a girl from one of my friends of my RK-95 from his KL-96 came along as well.

Are You confused? Well, to tell You the truth, I am??????
Anyway there were five of us that sort of knew each other from before and on top of that one of the Trek-leaders, we had two this time, happened to be Matt D, who was on my Rocky Mountaineer trek in 1997.
O'Boy what a reunion that was, it was kind of weird actually, but of course very fun as well.

So we came up to be a bunch of people from England, Germany, Austria, Holland, Belgium, Japan, our two Trek-leaders, Matt and Tavis who of course were Americans and then me, the only Swede again.

I left Sweden with the country covered with snow and pretty cold and flew in to Nevada and Las Vegas on Tuesday March the 9:th in the evening.
I thought I had done my homework about what kind of weather it was going to be along the way since this was my first winter Trek. I thought that it was going to be very cold, which wasn't completely wrong but I forgot completely about Las Vegas and Arizona. So naturally I didn't bring any shorts or sandals with me.

I thought I was going to die the morning after I had arrived to LV with only winter clothes with me, it was sunny and about 30 degrees Celsius. Luckily I had this day in LV before the Trek started so I spent the day in a shopping mall with air-condition, buying sandals and shorts together with one of the guys from my previous Treks who flew in that morning. Later that day the rest of my friends came in by car. They had come to the states earlier to do their own thing for a while. I was happy to see everyone again, and later also my old Trek-leader whom I, at the time, didn't know was going to do this Trek.




Utah - Zion National Park
Day No. 1 - Early morning the next day on the 11:th we all hopped in to the van to start our Trek that was going to begin in the Zion's in Utah.

We had all met up for a Howdy evening at the hotel the night before so we at least knew each other's faces.

We came to Zion and found our hotel. This was actually more of a lodging tour than camping tour, so during the whole Trek we only camped for one night, with one exception for some of us.


On our way up to Angels Landing in Zion NP.

On our way up to Angels Landing in Zion NP.
(You can actually see the top itself in the back to the left)

After we had settled in on our hotel we took off for a hike up to the Angels Landing. For You who have visited my Indian Trail page, Well You know how I feel about this place.


I didn't make it this time either even though I had decided I was going to.
But I wasn't the only one this time either.

The three of us together with Matt, my old Trek-leader, we went up on the West Rim instead, where it actually started to snow. Very wet snow, it was now pretty cold again.

On the photo You can see Angels Landing in the back.


- Eeeeh, Nilla; Just one more step back and it will be a perfect photo.

- Oh my God!!!!! It's a long way down - HELP!!!!!!!!

Even though I have many times been up on mountains and enjoy the view, I am bit afraid of heights.

Let me tell you that when I took this photo (I took it by myself) my heart was pounding like crazy. But I wanted this picture so badly.

What You see is acutally my own feet and I am sitting on the edge.
I have had a lot of questions what you do when you are on a Trek and you do a hike like this one. What you should do, when you for instance are afraid of heights.

My advise is that you should do your own thing. Don't feel the pressure that you have to do something you are not comfortable with.

There will most likely be people in the group that feels the same way and you can do other stuff together instead.


Matt and Peter in front of Angels Landing on the West Rim.
Utah - Bryce National Park

Bryce National Park.

Day No. 2 - We continued our journey to Bryce NP. I had been here before as well but at that time it was still summer and it was kind of strange seeing these cliff formations covered with snow.

We had beautifully weather, the sun was shining and it was kind of crispy, the air was cold with perfect hiking conditions.
Of course we did some hiking here as well; we went out on the Peek-A-Boo trail.
It was a beautifully hike.


Hiking on the Peek-A-Boo trail in Bryce National Park.

Me at a photo stop in Bryce National Park.

We stopped many times to take photos and also to take lunch brake.

After the hike most of us went in to the pool and the Jacuzzi at the lodge, where we were staying for the night, which felt very good.
Later in the evening we went out for dinner and some of us had a good laugh that evening. The thing was that we couldn't sit together all of us so we divided us in to small groups. I sat together with Junko and Yohei from Japan and Mario from Austria.

We still didn't know each other very well but after a while the conversation speeded up and we had a great time.

After the dinner I asked the waitress for separate bills and she came back with one bill for Yohei and Junko and one for me and Mario. I tried to stop her to tell her it was wrong but she took off and after a second or two I understood she had taking for granted that we were two couples. I told the others and we laughed like crazy about that for a long time, I mean we hardly knew each other, but we never told her about her mistake, we just paid the bill and fixed it afterwards.
Utah - Arches National Park
Day No. 3 - Was a long day in the van driving for Moab, still in Utah though.

We came to the hotel, just put in our stuff and then went for the Arches to watch the sunset. We sat there for a long time by the Delicate Arch and of course took a lot of photos seeing the shifting of the colors.


The Delicate Arch with some snowy mountains in the back.

The Arches NP - Two Holes.

Day No. 4 - We had a couple of hikes to do in The Arches; we started up with a short one which just took about half an hour, and then we did the Devils Garden.

We went first to the Two Holes and then we went further on to the Primitive Trail.
When we came to the Two Holes, someone in the group decided to do something that would make people laugh.

Since we were at the Two Holes, this person wanted to do something that had something to do with holes.

Who and what did he do?
Oh Yes, it was a he, but I wont tell you who and what he did.......(You have to keep guessing - hi,hi,hi)


Dennis is laughing at...........by the Two Holes.

The Arches NP - Me posing at the Window Section.

All the hikes we did was wonderful. The sun was shining and now it was pretty warm again, but still cold in the mornings.

Now I was able to use my new shorts and also managed to get sunburned a little.
Utah - Dead Horse Point
In the evening we went to the viewpoint "Dead Horse Point" a few miles away from Moab to have our dinner, which we had brought with us.

What a beautifully view that was, it was almost like the Grand Canyon.


Me sitting at the edge of Dead Horse Point.
Utah - The NewsPaper Rock

The NewsPaper Rock.

Day No. 5 - Then we entered the van again to go to Mexican Hat and our Cowboy Camp at Slim & Kody's, where we were going to do some horseback riding later that same day.

On the way we stopped a few times. First we stopped at the NewsPaper Rock. A piece of rock where ancient Indian tribes used to tell each other news etc.
Utah - The Anasazi ruins
The next time we stopped it was to take a look at some ancient Anasazi ruins.

To get there we had to go over a swing bridge to get over a river, and the bridge itself wasn't that steady so it was a bit difficult to step on it.


The swingbridge and it sure did swing.....!

Matt, a experienced climber, on his way up to the Anasazi ruins.

When we came to the Anasazi ruins we discovered they were located just beneath a cliff, way up on a mountain.

Some in the group started to climb up there but we could see it was quite difficult and steep, so most of us stayed down at the bottom, admiring the ruins from a distance.

The last stop we made on our way to Mexican Hat was at "The GooseNeck", a viewpoint where we had our lunch and were able to see a beautifully view of Monument Valley which was very close at this point.

Shortly after that we arrived to "Slim & Kody's CowboyCamp in Mexican Hat".
We went almost straight ahead out on our horseback riding which was great.
Utah - Slim & Kody's CowboyCamp in Mexican Hat
My horse's name was Chico and he was very nice. Along the way we passed among other things "The Mexican Hat" itself and a grave that was called "Boothill". It was was kind of funny, of course it wasn't a real grave.

There were two boots sticking up above the sand and a cross and the story we were told was that a cowboy was buried there.


Me on my horse Chico.

The run with the horses with the Mexican Hat in the back.

Some people in the group also went for a run with their horses.

It was a magnificent sight when they came running with high speed with all the sand flying in the air around them.
The evening we spent in front of the fire together with our hosts Slim & Kody, and what a nice couple that is.
I really hope I'll get to see them again some time.


A guest, Matt, Pancho and Slim in front of the campfire.

Our girl Hogan at Slim & Kody's at sunrise.

The two nights we spend at Slim & Kody's place, we slept in genuine Navaho Hogans.

There were one Hogan for the guys and one smaller one for us four girls, and Tavis; our Trek-leader who also slept in there.

We were extremely comfortable in our Hogan since we got the only one that had a stove, so it was very warm and cozy in there.
The first morning after arriving to Slim and Kody's place, I sneaked out at sunrise to get a few photos.

The first one was of our Hogan that you see above, the second one was of the camp itself.


Slim & Kody's place in Mexican Hat at sunrise.

The horses in the corral at sunrise.

.....The third one I wanted to have on the horses in the corral.

It was so beautiful sight seeing all the horses coming slowly towards me as soon as they heard that there was somebody in the corral.
Utah - Monument Valley
Day No. 6 - We hopped in to the van again for a short ride to Monument Valley where we were going on a hike.

We had two Navaho guides with us; Truman, or Speedo as Dave the other one called him for his fast running over the cliffs.


The Coffe-pot and Tea-pot in Monument Valley.

Climbing up the rope laddder.

We had a wonderful day out there, and it was a really brilliant hike up on one of the Mesas.

We actually had to do some climbing here now and then, we even started up by climbing a rope ladder, which Dave had brought with him.
When we got up to the top of the Mesa we had an excellent view of Monument Valley.

Dave was also a very interesting storyteller and something else that really impressed me was the fact that everywhere there were some tracks of an animal along the way up both Dave and Speedo saw it right away and the rest of us didn't see them until they told us.


Me climbing up the mesa in Monument Valley......Eh, sort of!

Me at the top of the mesa with a beautifully view of Monument Valley.

As I said we had an breath taking view from up there of Monument Valley.

We took a long brake up there just to sit and admire all the beauty.
Utah - Back to Slim & Kody's CowboyCamp in Mexican Hat
When we got back to the camp Kody had prepared a wonderful meal for us with meat that had been cooked in a hole in the ground for the whole day. I don't think I have ever tasted such good meat in my entire life.

In the evening we sat by the fire again but also got to do some line dancing instructed by the daughter of Slim and Kody. That was really fun, I love to dance.


Slim, Yohei, Edgar, Mario and Sarah by the campfire.

Dennis trying to be the big gunslinger.

In the evening we also go a chance to try out to shoot with a real gun. Some of us just had to try it out...
Wow did that sound loud or what!

We also had a good laugh that evening about the dog that took a liking to Tavis and didn't want to get off his leg????

We laughed like crazy about that and I believe he did as well.
(I reminded him about that event the next time we met, which was on my next Trek; The Alaskan-Yukon Adventure in Aug./Sept. 1999, and of course he remembered it very well)

Arizona - Betty and Rustys CowboyCamp in the Sonoran Desert
Day No. 7 - It was sad to leave Slim and Kody's camp when we left Utah for Arizona and our next Cowboy Camp in the Sonoran Desert. We headed for Rusty's and Betty's winter-camp.

We stopped on the way at a reststop to have lunch and suddenly it was freezing cold again even though we now were in the desert of Arizona.


The gang having a very tasteful lunch brake.

The scary sign by the rest stop where we had lunch.

When I walked a bit away from the gang to take the photo above I suddenly realized a sign that no one else had paid any attention to.

Believe me when I say that I quickly after that started to look where I put my feet.......
Then we came to Rusty's and Betty's wintercamp.

I had met Rusty and Betty before on my Indian Trail in 1994 so it was nice to see them again.

Their camp is beautifully located in the Sonoran desert beside a small lake with a hot spring that goes out in to the lake and with all these Saguaro cactuses surrounded the area.

When we got there, there were at least 2 other Trek-groups there and we had a fun evening together and Rusty & Betty were showing of as usually. This was the only night we put up our tents but it got quite late before we went to bed.


Rusty's & Betty's Cowboy Camp in the Sonoran desert.

The Jumping Cactus at Rusty's & Betty's Cowboy Camp in the Sonoran desert.

Day No. 8 - We went out for a short hike among the Saguaros and Jumping cactuses that was all around the camp.

One guy in our group even managed to get one Jumping cactus throwing away some of its stinging balls right in to his leg.

This could happen when you get too close to these cactuses and the vibrations in the ground makes them loose some of their spiny balls, and they can fly pretty far and are quite difficult to get rid of.
After that hike we entered the van again for a short journey to the small town Williams where we were going to spend the night and preparing ourselves for our two nights in the Grand Canyon and the Supai Village.

We were suppose to stay two nights at the hotel the Supai Indians (The Havasupai People which means: People of the Blue-Green water) runs down there but at this point some of us had decided to sleep the first night outdoors, just in our sleeping bags, no tents.

That came to be quite an adventure and a hazard to some of us.


The Saguaros Cactuses at Rusty's & Betty's Cowboy Camp in the Sonoran desert.
Arizona - Grand Canyon, Hiking the Havasu Canyon Trail to the Supai Village

View from Havasu Canyon Trail, hiking down into Grand Canyon.

Day No. 9 - Then we jumped in to the van again and went to the Hualapai Hilltop to park the van and to start our hike down the Havasu Canyon Trail to the Supai Village.

The hike is about 13 Km or 8 miles long and the first part is straight downhill but after that it is quite flat.

It was a brilliant hike and we just carried our personal stuff with us and of course some did carry all of our supplies that we had bought the day before.
Arizona - Grand Canyon, The hike down to Colorado River
When we arrived to the village a few hours later the four of us who had decided to sleep outside, we continued a bit further down to the campground.

On the way down there we passed the Havasu Falls and suddenly it looked as we were in paradise.

We stopped there and took a swim in the cool blue-green water and thought we were in heaven.




Havasu Falls in paradise - where we took a swim.

Nice view to wake up to - morning picture from my sleeping spot.

We found a very nice spot where we put out our sleeping bags and got to bed quite soon when it got dark, and it got pitch dark, couldn't see a thing.

I had just fallen asleep when I woke up when something was running over me. I thought I was going to have a heart attack, when I with trembling hands tried to found my flashlight to see what it was.

It was a Raccoon and it sat just a few meters away from me, starring at me. My heart was pounding like never before but I tried to go back to sleep after I had seen what it was that had run over me. The Raccoon did continue to harass me through the night though and when I finally got to sleep it was almost sunrise.

When I woke up shortly after sunrise I discovered that he had been inside my backpack, which I had put just beside me, while I was asleep and all my things were all over the ground.




Day No. 10 - As I said I didn't sleep that much that night so when I woke up at sunrise I was dead tired. But I picked up all my stuff and put it back in my backpack, what was left of it that is. Some of my things had been pretty badly chewed on by the Raccoon, but ce' la vie'.

Shortly after that the four of us took off for the Colorado River. What a brilliant hike that was even though I didn't make it all the way down to the mighty river. The hike from the camp- ground to the Colorado River is about 11 km/7 miles.

On the way down we had to do a lot of river crossings and we also passed some more waterfalls but the first one we passed was the most adventures. The Mooney Falls.


The Mooney Falls.

The Mooney Falls - just after we had climbed out through the tunnel.

The Mooney Falls starts from the same level as where we started from. So to get down to the trail that started from the bottom of the fall we needed to climb down through a tunnel in the mountain and then climb on the outside of the rock with a little help from a chain that was attached to the rock-wall. That was brilliant. After that it is quite flat and easy going. When we got as far as the Beaver Falls, and at that time I believe we had done at least 6 or 7 river crossings, I decided to turn back.

The place near Beaver Falls where we planned to cross the river again looked to dangerous to me so I turned back by myself and the other guys continued down to the Colorado River.

Later I found out that there was an easier and safer way to get over the river. Bummer!! Maybe next time because I am definitely going back there some other time.

I had a nice hike back by myself though. I actually like hiking alone, it doesn't bother me at all to do things by myself.
I stopped here and there on my way back, once to have my lunch and another time to take a swim in the river.

At one time I also stopped to have a look at a snake I was about to step on (again I might add). It was a Californian Kingsnake, which I didn't know at the time but I knew it wasn't poisonous so I wasn't scared at all when the snake slowly crawled in front of my feet.

On my way back I also later met the rest of the group that was on their way down. They didn't go the whole way down either.
Arizona - Grand Canyon, Hiking back to The Hualapai Hilltop
Day No. 11 - The last day came so suddenly as always. We had all spent the night at the hotel in the Supai village this time and started our hike back to the Hualapai Hilltop at sunrise.

It didn't take us that long to get back up the 8 miles/13 Km and people that we met on our way were quite impressed when we told them how fast we had hiked back up.

When we got to the van we realize the battery in the van was dead but luckily we got some help from a kind man who had some jumper cables which we to our surprise didn't have.


Waiting for the van to start at the Hualapai Hilltop.
Nevada - Las Vegas

Some of the gang at Ceasar's Palace in Las Vegas.

After we had the van started we packed in all our stuff and went for Las Vegas and our finally evening and dinner together.

After the dinner we said our goodbyes and as always it is so sad to say goodbye even after such a short time.
The next day everyone was gone, except for me and three of my old Trek friends, Dennis, Christoph and Peter.

We spent the day together going around LV in different Taxis to do some shopping as well as some sightseeing.


Las Vegas by night.
We among many things went to Old Las Vegas to watch the magnificient lightshow. We of course also went to a bunch of casinos.

The next day we all flew home to Europe and our time in the US was over for this time.
| | |
| --- | --- |
| Me standing right beneath the Old Las Vegas lightshow. | Me and my giant friends Christoph and Dennis in Old Las vegas. |
Conclusion.
The "National Parks Walk" was a great Trek, especially if you like to hike and me; I just love to hike. It was for me also great to come back to some of the places we went to, I actually like it more the second time when I know a bit more what to expect and how I can do things differently some times. In my opinion the visit down to the Supai Village in Grand Canyon was the highlight on this Trek and I know I will definitely go back there some time again.

I was also very happy to be able to do another Trek again with some of my old Trek-buddies and also later in 1999 I was very glad to see that Tavis, one our Trek-leaders on this Trek, was going to be a Trek-leader of mine again, on my Alaskan-Yukon Adventure in august/september of 1999.
My Treks with TrekAmerica.