The Rocky Mountaineer's Reunion - Holland, May/June 2000.

Last Updated October 12, 2008.

You are number



<% 'denna räknare började 2006-01-08. 'Dimensionera alla variabler Dim filObject 'File-objekt Dim fsoObject 'FileSystemObject-objekt Dim lngBesokare 'Innehåller antalet besökare Dim SkrivBildsiffror 'Slingräknare för att med bilder visa antal besökare Dim tsObject 'TextStream-objekt 'Skapa en FileSystemObject-variabel Set fsoObject = Server.CreateObject("Scripting.FileSystemObject") 'Initiera filobjektet med sökväg och namn på textfilen som skall öppnas Set filObject = fsoObject.GetFile(Server.MapPath("\counters\counter_reunionhol2000.txt")) 'Öppna textfilen Set tsObject = filObject.OpenAsTextStream 'Läs in besöksantal från textfilen lngBesokare = CLng(tsObject.ReadAll) 'Öka besöksantalet med 1 lngBesokare = lngBesokare + 1 'Skriv över den gamla textfilen med en ny Set tsObject = fsoObject.CreateTextFile(Server.MapPath("\counters\counter_reunionhol2000.txt"), true) 'Skriv nya antalet till textfilen tsObject.Write CStr(lngBesokare) 'Töm serverobjekten Set fsoObject = Nothing Set tsObject = Nothing Set filObject = Nothing 'Visa besöksräknaren som text Response.Write(lngBesokare) %>


visiting this site since January 8, 2006.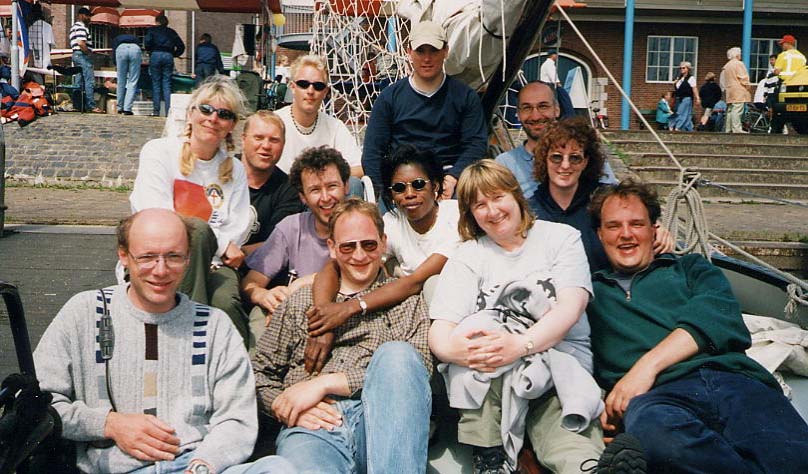 Group photo at the end of our sailing trip in Enkhuizen.


So was it then time for our Year 2000 reunion, this time in Holland arranged by our German boy Christoph, who is a sailing fantast.

Since we by now had visit all our countries we decided to do something different, and it sure became different.
Christoph had hired a big sailing boat with skipper and all and so we went sailing on the channels of Holland.

WOW is the word - Let me assure you that it was absolutely fantastic.

Our fantastic genuine dutch sailingboat before departed from Enkhuizen in Holland.
| | | | |
| --- | --- | --- | --- |
| Some in the gang before we took off sailing. | Me napping on the floor inside the girly cabin. | Nilla; Ok - has anyone any idea where we are going? | Dennis; Look - everyone is sitting down.... |
| Andrew, Dennis, Pat, Lilian and Chris inside our.... | Deeeeeennnniiiiiisssss; watch out for the sails.....! | Eeeehhhhh, Kurt what are you doing? Don't touch.... | Andrew; Look at me I am sooo happy. |
| Dennis; Ok - you said we were going.... | Ok Kurt, Please give Nilla some food, she's.... | Our skipper, sailor, Agnes and Andrew are.... | Our sailor; Ok Nilla do I look good like this.... |
| Pat is handing over some money inside a wodden.... | Andrew; Look I am still smiling........! | Nilla; Ok do I look like I have been sailing.... | Ok we need a groupphoto in front of one of the.... |
| Dennis; Ooooohhh, I am so relaxed now. May.... | Beautifully view from our sailing on open water. | Genuine dutch view sailing on the channels. | Nilla; Ok Dennis, south it was - here we come.... |