The "Road West" in Usa with Swanson's 1992.

You are number



<% 'denna räknare började 2007-10-23 med träffarna 5171. 'Dimensionera alla variabler Dim filObject 'File-objekt Dim fsoObject 'FileSystemObject-objekt Dim lngBesokare 'Innehåller antalet besökare Dim SkrivBildsiffror 'Slingräknare för att med bilder visa antal besökare Dim tsObject 'TextStream-objekt 'Skapa en FileSystemObject-variabel Set fsoObject = Server.CreateObject("Scripting.FileSystemObject") 'Initiera filobjektet med sökväg och namn på textfilen som skall öppnas Set filObject = fsoObject.GetFile(Server.MapPath("\counters\counter_roadwest1992.txt")) 'Öppna textfilen Set tsObject = filObject.OpenAsTextStream 'Läs in besöksantal från textfilen lngBesokare = CLng(tsObject.ReadAll) 'Öka besöksantalet med 1 lngBesokare = lngBesokare + 1 'Skriv över den gamla textfilen med en ny Set tsObject = fsoObject.CreateTextFile(Server.MapPath("\counters\counter_roadwest1992.txt"), true) 'Skriv nya antalet till textfilen tsObject.Write CStr(lngBesokare) 'Töm serverobjekten Set fsoObject = Nothing Set tsObject = Nothing Set filObject = Nothing 'Visa besöksräknaren som text Response.Write(lngBesokare) %>


visiting this site since February 2, 2000.
Last Updated December 14, 2010.
After coming home from Australia in 1990 I knew I wanted to get back on the road again.
Since I have this interest in the culture and history of the North American Indians along with the nature and wildlife over there I decided that my next trip would be North America. I saved up for this for 2 years and it wasn't easy but I worked hard, took a lot of overtime when I had the chance, I stopped smoking and even sold my car. I realized after selling my car that I didn't really need one so I never bought a new one. Instead I moved to an apartment closer to work and used my bike to get where I want to go and have to this day been happy with that. In wintertime when it's a lot of snow I hike instead and get a lot of fresh air and been keeping myself fit when I can't do my running because of the snow.
Colorado
So on the 17th of September; I entered the plane to fly over to first Newark in New Jersey and then another plane to Denver, Colorado to meet up with my group for our "Road West" with Swanson's. We were all Swedish including our guide Kevin who did a great job along the trip.
It was a 16 days trip and wasn't at all like TrekAmerica, we stayed at hotels the whole time and had a big bus to take us where we were going along with a lot of flying. After the trip I was going to travel by myself for a while.
We had a tight schedule so the next morning we got on our bus after a good night sleep and briefing at breakfast.

Our bus driver's name was Jerry, who was American, and then we took off for our first stop "The Garden of the Gods" a few miles outside Colorado Springs.
What a beautifully place; The name of that place was perfect.


The Garden of the God's!

The Royal Gorge Bridge!

After that we continued our drive to "The Royal Gorge Bridge" which is what we were told the highest swing bridge in the world.

It sure felt like it, the gorge underneath was miles away and when we walked out on it we could surely feel that the bridge wasn't steady at all.
After that we continued to Salida where we rested for the night.
The next morning was an early one, had breakfast at 6 a.m. and then we entered the bus at 7. We were going to drive over the Rocky Mountains, over the Monarch Pass, 3400 meters up. It was a slow drive but very beautifully with all the colors of the Aspen in the fall. From there we went to "Black Canyon" very much like the Grand Canyon but of course much smaller. Had a short stop here before we continued to Silverton where we hopped on the old Steam train that would take us across the Rockie's to Durango.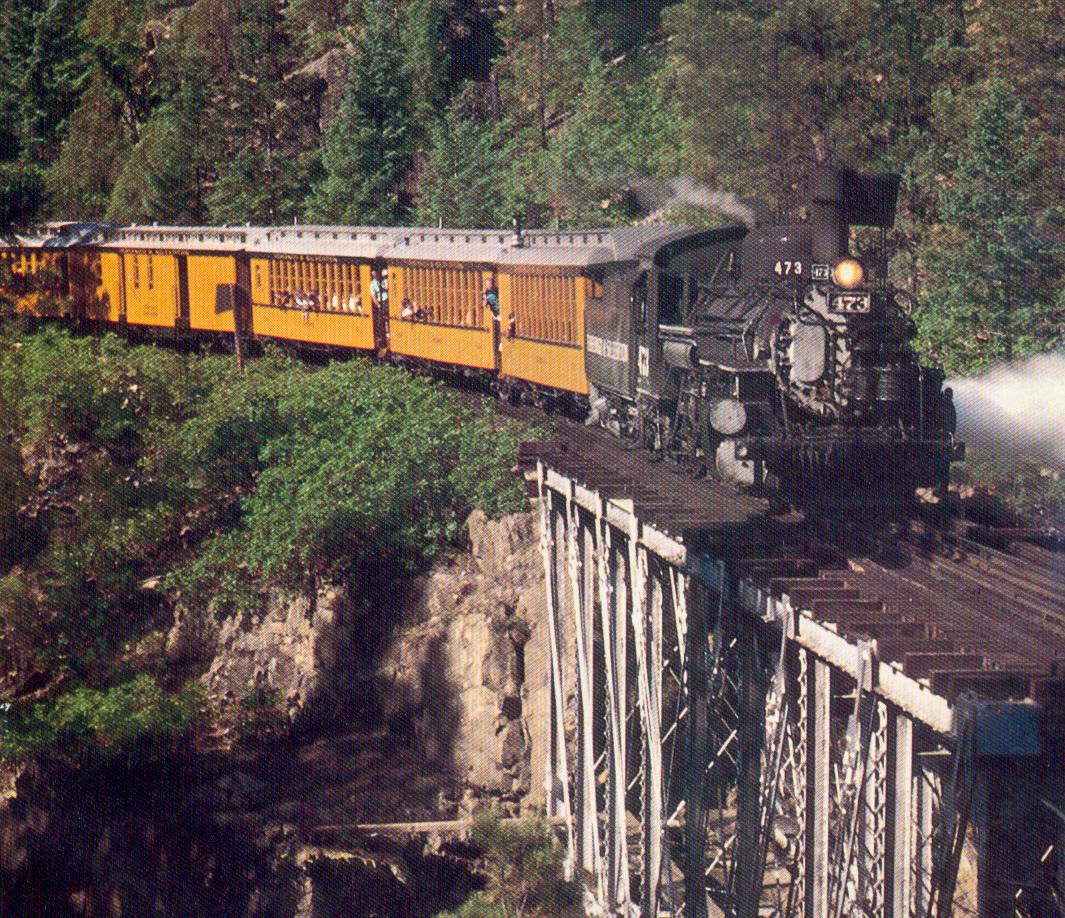 The old Steam Train that goes between Silverton and Durango!


The train ride from Silverton to Durango took between 3-4 hours, because the train was going very slowly. It was extremely beautifully with a lot of mountains and yellow Aspens along the way so in my oppinion it could go on forever with out any problems for me.

We followed a river almost the whole time and saw a lot of wildlife along the way, not any Bears or Wolfs though, and those animals were on the top of my list.

We arrived safely to Durango and I liked what I saw. Durango is a very small town but has a genuine western atmosphere and some really good galleries with native art and jewelry, which I explored after dinner that same evening.
We were staying here for 2 nights and the next day we had a day trip to Mesa Verde on the schedule.
Mesa Verde are a Spanish word for "Green Table" and it's a big cliff located in the "Four Corner", where the four states Colorado, Utah, New Mexico and Arizona meets. Here the ancient Anasazi Indians used to live on the top. There are still a huge amount of remains of their cliff houses so we went up there on the top to have a look around. To see those cliff houses located on the walls of the cliff we had to climb up and down on ladders which was a bit scary sometimes. Up on the cliff it was really "green" and it was very interesting to learn about the Anasazis that lived here for a 1000 years but just disappeared some time during the 1300 century because the lack of rain.
| | |
| --- | --- |
| The cliff houses by the Anasazi's on Mesa Verde! | The Hairy Tarantula enjoyed my company on Mesa Verde! |
New Mexico
The following morning we left Durango for Santa Fe, New Mexico. On the way there we passed the mighty Rio Grande and we stopped the bus to pass over the bridge by foot. The river is not that "Grande" anymore but it was still amazing to walk over it.
| | |
| --- | --- |
| The Rio Grande! | The monument "Santa Fe Trail" in Santa Fe! |
Before we reached Santa Fe we stopped in Taos to visit the Pueblo Indians. It was very interesting for me who has this interest in the North American Indian culture and history. I didn't take any photos here because of my conscience. I wanted to show my respect for the people who live here. I bought some things instead; a book about Indian sign language and some postcards.

Santa Fe are in my opinion a very beautifully town, built in the same way as the Pueblo Indians have built their houses for a long time, with the red soil and big wooden details.
The next morning we continued to the airport in Albuquerque to entered the plane that would take us to first Houston, Texas and then another plane straight to San Antonio.
Texas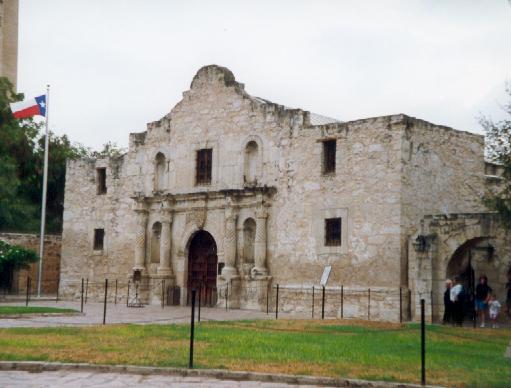 The Alamo in San Antonio with the flag of Texas to the left!



It was very warm in San Antonio but it felt really good for a person from the Nordic Countries.
Here we went sightseeing to the usually tourist places like Alamo for instance, where General Santa Ana from Mexico defeated Jim Bowie and the rest in 1836 after 13 days of resistance.

We also went through Fort Sam Houston the big Military base in San Antonio and heard sad stories about the Gulf war.

After that we went to the Botanic Garden and also the big Museum in San Antonio, which showed a lot of the habits of the different people who have immigrated to this area along with the history of the Indians who lives here. Very interesting.
We spent the evening at the restaurant up at the tower of San Antonio eating the specialty of the town, Catfish which tasted really good. The view from up there was excellent.
The next day we flew up to South Dakota.




South Dakota
South Dakota was one of the places I really had looking forward to go to, of course mainly because of the Sioux Indians. We stayed at a hotel in Rapid City and from there Jerry drove us to several places to have a look around.

We went to Black Hill's, or Paha Sapa as the Sioux calls it and Mount Rushmore of course, with the president faces on the cliffiside.


The presidents Washington, Jefferson, Rosevelt and Lincoln!
From there we went to Crazy Horse Memorial, which is about the same thing. They are carving in the cliff side a profile of the mighty Crazy Horse, a very famous Sioux.

In 1992 when this trip took place the carving wasn't at all finished, so now days I don't know what it looks like, but maybe later this year (in year 2000) I will go back there to have a look again.
You can see from the photos below what the carving looked like in 1992 and how it is supposed to look like when it has been finished.
We were told that this project started in 1948 so it has taken some time to get this far.
| | |
| --- | --- |
| | |
After that we went to a small village called Keystone that used to have a few gold mines a 100 years ago. We went in to one of the old mines and the story we were told were that the two guys who used to dig there; they were digging in that mine for 35 years and only made about 100 $ in gold.

We drove home to Rapid City through Custer State National Park where the brilliant movie "Dancing with Wolves" was shot and there we suddenly met up with a Buffalo beside the road.
When we got back to Rapid City I went on my own to the Sioux Indian Museum. Quite a small place but I thought it was really good so if You ever go to Rapid City I do recommend a visit there.

Next morning we continued out journey to Wyoming.
Wyoming
We drove over the border to Wyoming and soon we passed the little town Sundance, which named the famous Sundance Kid after he had spent an 18 months of time in jail here for horse steeling.


Shortly after that we arrived to the Devils Tower, a mighty cliff formation made by a volcanic eruption. This rock used to be a landmark by the Sioux Indians who called it "Mateo Tepee" which means "Grizzly Bear Lodge".
There are a number of legends about the Rock and about how it got its "claw marks" on its sides.
Today this rock is very popular by climbers and when we were there we saw 7 of them up on the rock.

After our visit there we continued towards Cody where we were going to stay for the night and visit the "Buffalo Bill Historical Center" the morning after. On our way to Cody we passed over the Big Horn Mountains and it was extremely beautifully there and we even some snow on the ground when we drove across the Granite Pass.
The following morning we went straight to the Buffalo Bill Historical Center. It was a great museum with both Art and historical things and of course I especially enjoyed the part about the American Indians History. I took a lot of photos at this place.
On the photo below to the right You can see me, the youngest of the group and the couple that probably were the oldest, and we got along nicely and had a really good time together as You can see.
Someone told me once that "Age is just a number, it's what's in Your mind that counts", and I believe that is very accurate.
After our visit here we continued towards the Yellowstone Park which wasn't far away at all.
| | |
| --- | --- |
| | |
| | |
| --- | --- |
| | |
On September 27 we entered Yellowstone Park through the east entrance and followed Shoshone River and Shoshone Forest and drove over Sylvan Pass on our way in to the park. Everywhere we saw wildlife like Buffalo, Elk and Deer. We were told that there was suppose to be like 500 Black Bears in the park but of course it is really difficult to spot one, so we never did.
| | |
| --- | --- |
| | |
The Old Faithful Lodge and how it looks outside the lodge with all the mist from the many geysers!

The Old Faithful before and during its eruption and last the Castle Geyser!



We stayed the following two nights at the Old Faithful Lodge which is supposed to be the world largest timber house. Around the Lodge there were geysers everywhere and a lot of mist coming out of them and The Old Faithful itself was just outside and just as they said it had its eruption every 70 minutes. There were also a lot of Buffalo's and at one time I even had a huge Bull right outside my window in my room, so close I could almost pet him, which I of course wasn't stupid enough to do. They look so timid but are very unpredictable and can kill You on the spot if You get to close.

The two days we spent in Yellowstone we went to see most of the many geysers around the park. We also went to se The Lower Falls, The Petrified Tree and much more since we almost covered the whole park by bus, and everywhere we saw wildlife except for Bears.
The next morning we entered the bus again for first the Teton Mountains and then further on to Utah and Salt Lake City.



Please follow me to the next part or my Road West in 1992 by clicking on the photo of The Teton Mountains.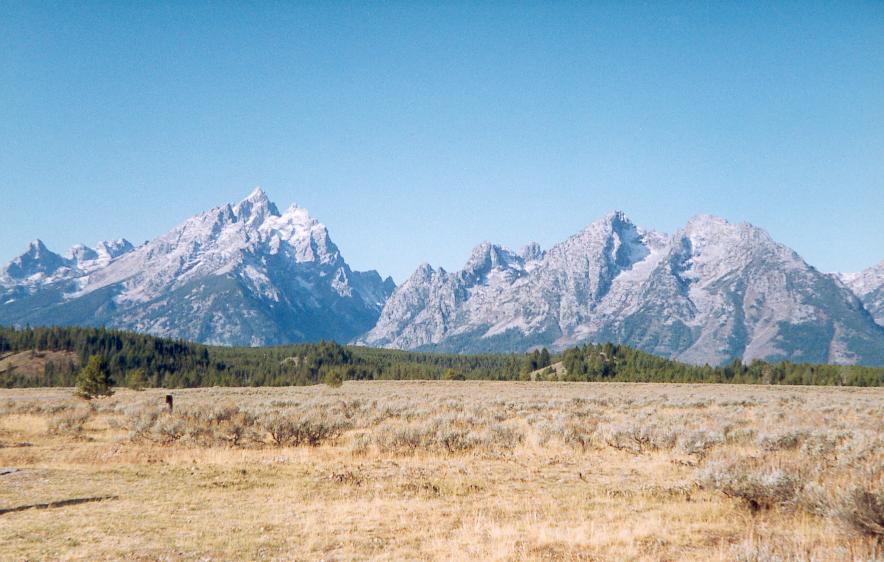 Back to the mainpage of The Rocky Mountaineer's.