The Rocky Mountaineer's of 1997 - Canada.


All pictures on the two pages here has been rescanned and enlarged, to get better quality.
There is also a bunch a new pics on both pages.
You are number



<% 'denna räknare började 2007-10-23 med träffarna 3286. 'Dimensionera alla variabler Dim filObject 'File-objekt Dim fsoObject 'FileSystemObject-objekt Dim lngBesokare 'Innehåller antalet besökare Dim SkrivBildsiffror 'Slingräknare för att med bilder visa antal besökare Dim tsObject 'TextStream-objekt 'Skapa en FileSystemObject-variabel Set fsoObject = Server.CreateObject("Scripting.FileSystemObject") 'Initiera filobjektet med sökväg och namn på textfilen som skall öppnas Set filObject = fsoObject.GetFile(Server.MapPath("\counters\counter_rockymountain1997.txt")) 'Öppna textfilen Set tsObject = filObject.OpenAsTextStream 'Läs in besöksantal från textfilen lngBesokare = CLng(tsObject.ReadAll) 'Öka besöksantalet med 1 lngBesokare = lngBesokare + 1 'Skriv över den gamla textfilen med en ny Set tsObject = fsoObject.CreateTextFile(Server.MapPath("\counters\counter_rockymountain1997.txt"), true) 'Skriv nya antalet till textfilen tsObject.Write CStr(lngBesokare) 'Töm serverobjekten Set fsoObject = Nothing Set tsObject = Nothing Set filObject = Nothing 'Visa besöksräknaren som text Response.Write(lngBesokare) %>


visiting this site since October 7, 1999.

Last Updated December 14, 2010.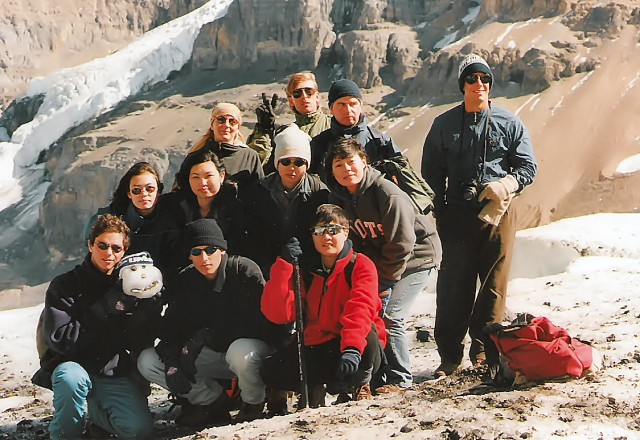 The Rocky Mountaineer Trek group. At the Athabasca Glacier in Canada.

"Sell a country! Why not selll the air, the great sea, as well as the earth?
Didn't the Great Spirit make them all for the use of his children?"
(Tecumseh, Shawnee. 1768-1813)



Seattle.

Seattle - Usa. View seen from the ferry over to Bainbridge Island.

I came back to Seattle on September 3:rd, 1997 to join The Rocky Mountaineer's Trek for the second time.

I did this Trek in 1995 and liked it so much that I decided to do it one more time. If You have visited my Rocky Mountaineer's of 1995 web site You will know that they changed the name of this Trek to something else.
This came to be my fourth Trek with TrekAmerica .
I had a few days in Seattle before the Trek started and I really like this city. In my opinion it is one of the nicest cities in the US.

These days I mostly spent downtown Seattle, visited The REI-store of course and this store is an "outdoor Mecca" (=Swedish expression). If You ever go to Seattle You just have to visit this store, just going in there is an adventure.


The Space Needle in Seattle.
| | |
| --- | --- |
| Me at the top of the Space Needle with downtown Seattle in the back. | I visited the Space Needle of course........... |
............and took a boat ride over to the Bainbridge Island.

I also went to Pike's Place, West Lake Center, The Piers in the harbor etc. etc. etc, the usually tourist things.


Me on the ferry over to Bainbridge Island.
The evening before the Trek started we were suppose to have our "Howdy Evening". To my surprise there were only three people showing up. Me, one guy from Scotland and a girl from Japan and of course our Tour-leader Matt, same Trek leader whom I later had on my National Parks Walk in 1999. The next morning though everyone was there, they had all flown in later that evening and night after the meeting was over.
Canada - Vancouver, Wells Gray and Mt Robson.
On the morning of September 5, everyone was there and we took off for our first destination; Canada and Vancouver. The countries represented this time were Holland, England, Scotland, Singapore, Israel, Japan and me the Swede and Matt our Trek Leader who was American of course. 6 guys and 6 girls.
On the "Howdy evening" I told Matt about that I had done this Trek before and he was kind enough to change the Trek a bit just for me. We still went to the same places that were on the Trip planner but he change the campgrounds when he could. He also made it possible for me to do some other hikingtrails than I had done before and also added places to the schedule that I had never been to, which I really appreciated. The whole group of course decided about all these things. That is how it works on these trips, the whole group must be in on it.

Since it was my third time in Vancouver I didn't do much this time, just walked around in Stanley Park, downtown Vancouver and in Gastown. Took it really easy and relaxed as much as I could.
| | |
| --- | --- |
| The Gas Clock in Gastown, Vancouver. | Me trying to fit in to the Totem Pole (again) in Stanley Park, Vancouver. |

Guy; - I am falling, falling, falling! - I AM FAAAAAAALLING!!!!!!!

The next morning we left Vancouver for Wells Gray but before we got there we stopped to do some parachuting.

Well, to tell You the truth there was only two people in the group who did it, Matt our Trek leader and Guy from England.
Brave guys or maybe crazy I must say.

Nothing in the world would get me up in a small airplane and jump out of it high up in the air.
NO WAY!!!!


Matt; - Phuuuiii! Thank God it's over.
We arrived to Wells Gray and our campground at the Buffalo Ranch. I have camped here before and it is a very nice place with real Buffalo's on the premises.

Later in the evening we drove deeper in to the park to watch the sunset at a viewpoint and also to see the magnificent waterfall which I unfortunately cant remember the name of.

Matt blindfolded us all before we were let out of the van and then we walked hand in hand to the waterfall before we were aloud to take of the towels we had over our eyes. That felt a little bit spooky because we had no idea where we were heading but we could hear and feel that we were walking through a thick forest.

When we finally took of the towels we were standing in front of the waterfall and it was very beautifully.


The waterfall in Wells Gray.

Me in front of Mt Robson.

The next morning we left the Buffalo Ranch for Jasper in Alberta but before we left Matt bought some Buffalo meat from the owners of the Ranch for us to have for dinner later that night.

On the way over to Jasper we stopped at Mt Robson to do our first hike which was just a short one but extremely beautifully.
I usually hike by myself so I took off and reached the end of the trail first of us all.

It was so beautifully up there. A small lake surrounded by mountains and You could see the reflections of the mountain in the lake, and the water in the lake were so very green.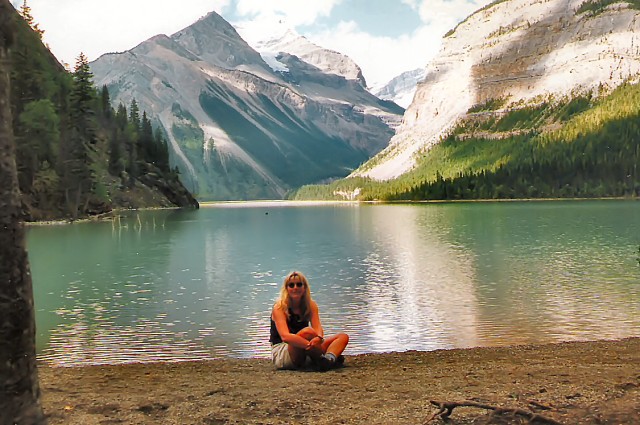 Me at the lake at the end of our first hike at Mt Robson.


Jasper, The Athabasca Glacier and Banff.
We continued towards Jasper and I thought we were heading for the usually Trek campground there the Whistler, but we just stopped there to sign in and to get a key for a gate and continued our drive.

We went maybe 30 minutes drive south of Jasper to a wilderness camp and we had to use the key to open a gate so we could drive in. What a great place and we were completely alone there. The place was called Ranger Creek.

In the evening we made a huge fire and had our dinner in front of it, Buffalo Burgers, and it was delicious.


Sylvia and Dan making Buffalo Burgers at Ranger Creek.

Resting at the top of Opal Hills.

The next morning we headed north of Jasper to do our first really long hike, up on the Opal Hills.

That trail was really steep, it was straight up and even me, who are quite fit breathed heavy before I reached the top. On the top I lay down in the sun and watched the excellent view that we could see from up there.
The mountains surrounding the place where we had climbed up to was just gorgeous.
After waking up from my little nap I sat there for a while just looking at the view.

Since we had no facilities except for a pit toilet at our wilderness camp we went to have a swim in a lake before we went home. We went to the Medicine Lake and believe me it was freezing in the water.

I believe we were all shivering after that dip in the lake but at the same time it felt really good to get clean after that hard hike.


Not a pretty sight - Me waking up from the nap (but the mountains are beautiful).

The group on our way up on Athabasca Glacier.

The next morning we continued our drive on the Icefield Parkway towards Banff.

We stopped on the way though to do our Glacier hike at the Athabasca Glacier.
I did this hike in 1995 at my first Rocky Mountaineer Trek but I enjoyed doing it a second time and You will never know if things have change since the last time.

Our guide out there was very good, his name was Steve and he was from New Zealand where he did the same thing during the winter season.


Watch out for the woman with the ice ax at the Athabasca Glacier.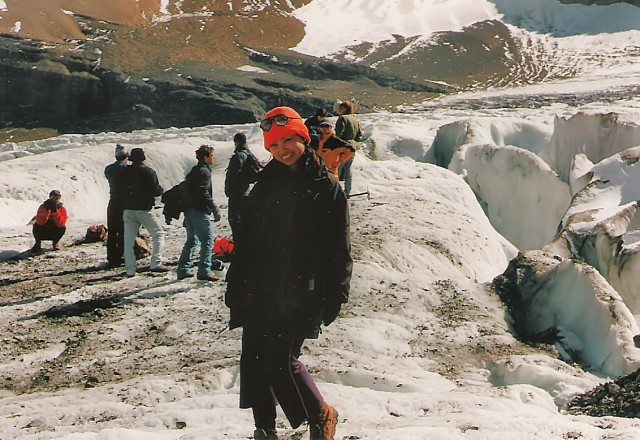 Sylvia looking cute on the Athabasca Glacier hike.



Banff Avenue.

We arrived to Banff and the Tunnel Mountain Campground, the campground that is located on the top of a mountain. I just love Banff and this campground and even after beeing here two times before I still enjoy coming back.

The next day we went hiking at Lake Louise. Since I have been doing the usually hikes here two times before Matt took me and some of the other guys on a hike up on Mt Fairview instead.

That was a really steep hike, with a lot of loose gravel on the trail and I had some really bad shoes on so unfortunately I didn't make it to the top. I just kept sliding down the whole time. It was a great hike anyway.
When we came back to the campground from the hike that day I had a surprise waiting for me. My friend Dennis from my Rocky Mountaineer of 1995 Trek was there. I knew he was doing the Transcontinental North Trek but I couldn't dream of that we actually would bump in to each other on the road so that was quite strange. It was good to see him again.

We left really early the next morning to hike up the Sulphur Mountain and have breakfast at the top. That was a really cool hike and the breakfast tasted lovely after that.


Syvlia me and on the top of Sulphur Mountain.

Me and the Canadian flag on the top of Sulphur Mountain.

After spending some time up there we took the Gondola down to do some exploration of the town Banff itself.

I went to the Luxton Museum, which is a quite good one that shows the American Indians culture and old way of life in these parts of Canada. I found it very interesting.

Later that day we left Banff for Kootenay which was one of the places that wasn't on the trip planner in the brochure. I just loved Kootenay from the first moment we got there.
Kooteney.
When we got to our wilderness camp in Kootenay it was quite dark so we basically just had dinner and then went to bed. Again we had no showers, just a few water-taps with cold water and some toilets. In the dark we didn't see much so the next morning when we got up after sunrise we had our lives surprise when we saw the sign above the water-taps!
WARNING!!!

Do not drink this water!
It contains animals that may cause illness!!
At this point it was already too late, we had all been brushing our teeth's with it and been drinking it.
That made us pretty nervous but luckily no one got sick.
We took off that morning to do a really long hike in Kootenay, on the Kindersley-Sinclair Trail.



It was a 16,5 Km long hike and was very beautifully with all the autumn colors. It had rained earlier so it was pretty wet on the trail and our shoes got wet right away. At the highest peak of the trail it was quite cold so after spending 10 minutes up there, my toes turned blue. But what a brilliant hike that was.
| | |
| --- | --- |
| | |




On the photos above You can see Jackie, Sylvia and Matt at the Kindersley-Sinclair Trail in Kootenay!



The most hilarious thing that happened was when half of the group got lost in the woods during the hike. The rest of us were sitting in the van waiting for them for hours and got really worried about them. Luckily a hunter found them somewhere in the woods and gave them a lift back to the van. After that hike we went to the Radium Hot Springs to have a dip in that warm water. Oh boy did that feel good.



The next morning we got up pretty early to go over the boarder to the states and then a little bit further to Glacier NP in Montana.





Follow me to Page 2 of my Rocky Mountaineer's of 1997 Trek by clicking on the photo above or go through the menu' below.


My Treks with TrekAmerica.